Some information has come out that mentions that Uber in Rome Italy is not available, and this is because at the beginning of the service, it was banned from Italy, but as time has passed, two cities have had the service for some time now, one is Milan and the other is Rome.
Uber in Rome 2019?
If you going to travel to Rome, you will find that the Uber app is available, but it will only let you use the high end services such as Uber Black, Uber Van and Uber Lux, this is because at this point, it will not interfere with taxi services or other government regulated services that are in the transport business in Rome.
If Uber is only available with their most expensive services, this can make you wonder, what it's Uber cost really like?, and for example if you want to use UberLux, it's initial fee is 6 euros and and an average of 1.50 euros each kilometer, being the same for Uber Van, and Uber Lux has an initial fee of 5 euros for initial fee and 1.20 euros each kilometer. 
Uber is safe in Rome, both in terms of money and safety in general, they operate with the same regulations as a provider as their counterparts around the globe. You can pay with you credit card, you can see trough GPS where your Uber is and share your position live with someone you trust.
How to Order Uber in Rome?
As long as you have a 3G, 4G, 4.5G or WiFi connection you will be able to book an Uber in Rome; this with the Uber app or the Uber Lite app (In case that you want to save data form your plan).
All the competitive advantages that Uber has to offer worldwide, are available in Uber Rome, you can book Uber in advance in Rome; with a 10 to 15 minutes windows, you can request a ride to pick you up on a specific location. (Different terms apply if you have a Uber Business account).
Uber Availability in Rome
In theory, Uber is available in Rome without a problem in their high end services, but at some points it is extremely expensive.
If you want to take an Uber in Rome from Airport to Termini Sation for example, it will cost you 94 euros for Uber Black, 123 euros for Uber Lux and Uber Van; as you can see, this is extremely expensive.
How Uber operates in Rome, is that only if you need to have a luxury experience or you don't have any other alternative and money is not a problem, Uber is a fully operational service for you, if you don't care that you are not on a high end car or in a limousine taking a trip trough Rome, then maybe you can consider other options.
Uber Alternatives in Rome
Besides the obvious options, like car rental or local taxi services, there are some great alternatives that you can use to travel, that are not as expensive as Uber Black.
Public transport is a great option if you want to save 95% of you transport budget, metro stations and bus stations are in great places for you to start your trip and don't miss any great landmarks in Rome.
The metro in Rome is one of the smallest in Europe, but even tough this issue, it goes trough some of the most important tourist points in the city. It has three lines, that pass trough Vatican Museums, St. Peter's Basilica, Trevi Fountain, Colosseum, Roman Forum and specially the Airport in case that you want to save 94 euros in Uber and many other great locations.
Two wheel options are also a great way to see yourself traveling Rome without any problem or additional costs.
Bikes are very common in the streets of Rome in places where traffic makes it possible and also scooters if you want to be less tired and a little bit fast. Remember, security is always first.
Other Uber like services are also available, at cheaper prices, they have almost the same advantages that Uber, and it is up to you to decide if the cost of these services is in your best interest.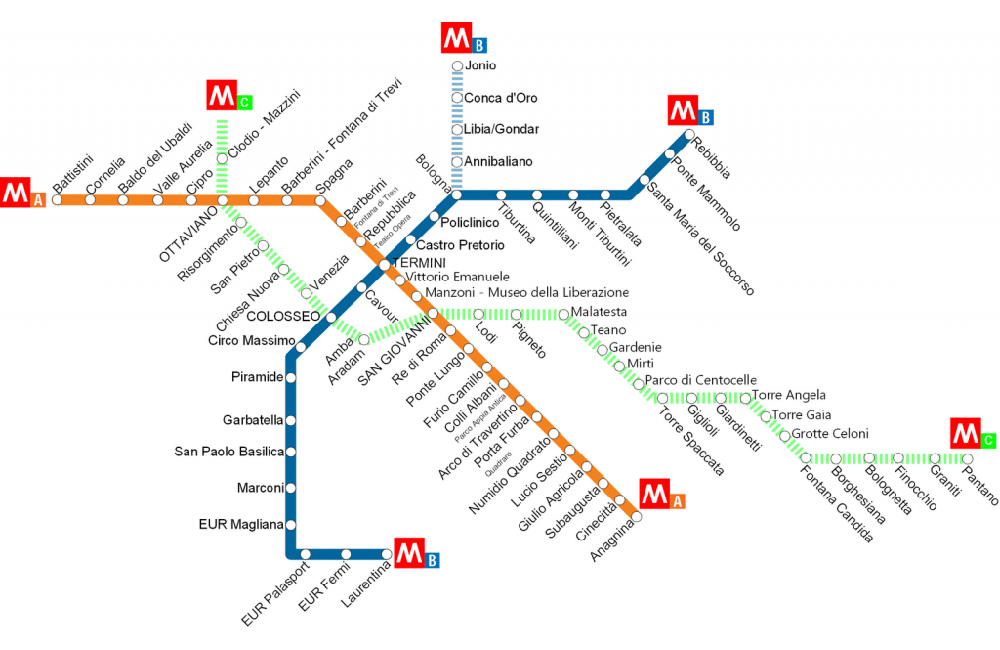 So, to Uber or not to Uber? Or Similars?
It is my recommendation that in cities like Rome, it is better to travel through Metro, Bus, Bike or Scooter and leave Uber as an option in case of need.
Remember that travel is the experience, and always you can take an Uber from your office to your house at your home town.