When it comes to traditions, Italy is a strong competitor for world's most traditional culture.  Among the passing down of cooking techniques and a love of life also comes the tradition of Aperitivo. Now, you might be asking yourself, what in the world is Aperitivo? Some describe it as a pre-dinner social event accompanied by a light drink and snacks such as patatine (potato chips) or arachidi (peanuts). Others consider an Aperitivo to be a customary time of day where you relax with a spritz or negroni (to be explained later) and enjoy finger foods like tiny pizzas without cheese called pizzette or with salami and cheese. No matter how you take your Aperitivo if you do it the Italian way, one thing for certain, it will consist of an alcoholic beverage, some snacks, and lively banter with some dear friends.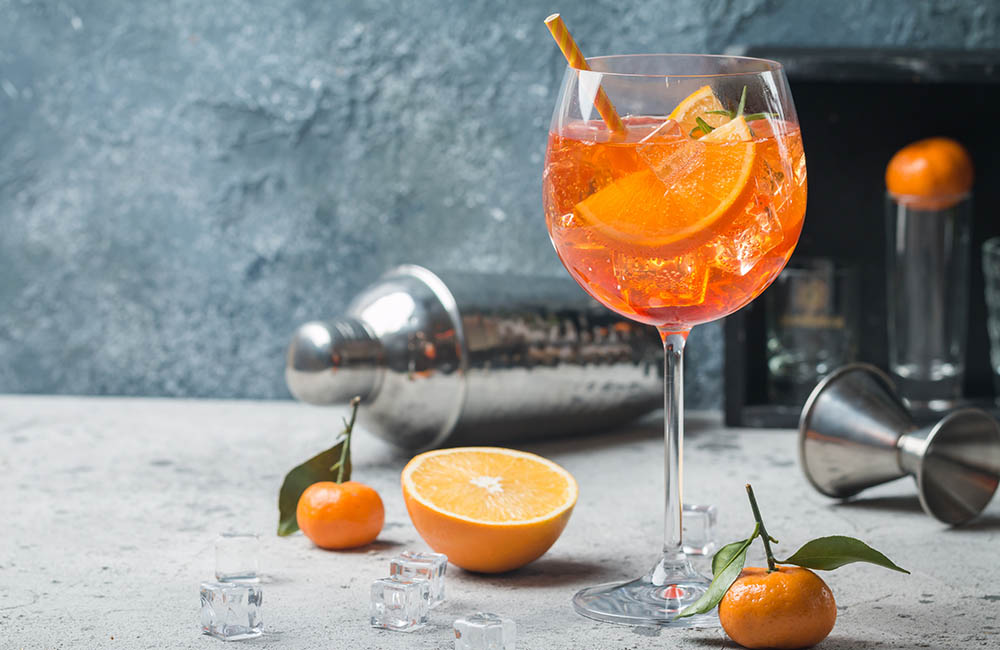 Historically, Aperitivo wasn't called Aperitivo, but instead, gustatio, roughly translated to a taste. The idea was to encourage pre-dinner mingling under the subtle influence of mulsum, a highly alcoholic wine usually mixed with honey (a common practice in Ancient Rome) and flavored with various spices. However, the modern version of Aperitivo began with Antonio Benedetto Carpano, when he created Vermouth in 1786. Vermouth was made from Moscato white wine, with the addition of 30 aromatic herbs and spices. Carpano used vanilla, saffron, wormwood and many other special ingredients to make his Vermouth. Even today a restaurant in Turin makes the same "antica formula" from his recipe, for more than 230 years.
Speaking of typical Aperitivo beverages, let's explore the recipe to the ever famous spritz. Now, the order in which you add the ingredients is of utmost importance! Begin by adding your preferred amount of ice, then pour the Prosecco, followed by Aperol (in equal parts) and a splash of soda. Finish it off with an orange slice and enjoy the fizzy goodness brought to you by the Italians. One taste and you'll have no choice but to admit, the Italians have once again created a concoction worth remembering through the ages. You might be wondering why the order in which you create this lovely drink is so important. The answer is: if you deviate from this plan the Aperol will settle to the bottom of the glass and it simply won't be the same.
The second most famous Aperitivo drink is the negroni. The most widely accepted origin of this drink is at the Caffe Casoni located in Florence, Italy, in 1919. The story goes, that Count Camillo Negroni asked his bartender at this bar to strengthen his americano by replacing the soda water with gin and then switched the lemon slice for an orange peel. The Negroni family quickly made entrepreneurial moves and established the Negroni Distillery the same year in Treviso, Italy. The ingredients to this suave cocktail are: 20ml Gin, 20ml Vermouth, 20ml Campari, and 1 fresh orange peel.
As traditional customs go, Aperitivo is one of the more well received traditions around the world. But remember: the Aperitivo is not meant to wholly replace dinner. So, don't fill up on these tasty snacks. Try to save room for the incredibly well-made dinner that is sure to follow on a night out anywhere in Italy.