As of June 1, 2022, Italy dropped its remaining entry regulations, meaning people arriving in the bel paese are no longer required to show proof of vaccination. Those who are not vaccinated are also no longer required to quarantine on arrival.
In addition, travellers are not required to show a negative test result or proof of recent recovery from coronavirus. The passenger location form was also dropped on May 1, 2022, in line with the Italian government's plans to relax regulations in time for the summer season.
FFP2 face masks are currently required on airplanes to and from Italy.
Where do I need to wear a face mask in Italy?
Pandemic rules and regulations are being phased out, but some requirements remain. The rules around face masks were eased in May and then in June 2022 but specific kinds of face coverings are still required in some settings until at least September 30th, when regulations will be reviewed.
High-grade FFP2 face masks are mandatory on all public transport across Italy. This includes planes, trains, buses, coaches, ships, and other local transport networks..
Masks are no longer required at shops, bars, restaurants, and museums. Though keep in mind that some businesses may still request you wear one, and we will likely see some people choosing to wear a mask for some time to come.
Police can issue fines for those caught not wearing masks in places where it is mandated. We recommend having one with you at all times. Both surgical and FFP2 face masks can be purchased cheaply at pharmacies, supermarkets, and convenience stores.
Do I need a 'Green Pass' or vaccination certificate?
The colour-coded traffic light system – which was adopted during the state of emergency and saw different regions assigned different risk levels – was dropped in April 2022. The rules are now the same across all of Italy.
As of May 1, 2022, it's no longer necessary to show a Green Pass to access businesses and services. This covers activities such as dining in restaurants, visiting museums, shops and theatres, and travelling on public transport.
Please note, the Vatican Museums has its own regulations in place and currently requires a basic Green Pass (or equivalent certificate for people vaccinated in non-EU countries) for entry.
The Super Green Pass remains in place for those visiting hospitals and care homes.
What's Italy like right now?
Italy was hit hard by coronavirus and Italians have lived under varying kinds of restrictions for the last two years. So, while the country is happy to welcome tourists again, you may find people feel cautious and choose to wear masks and practice social distancing, including in settings where it is no longer mandated.
Some museums and cultural sites still only take bookings in advance to spread out visitors across time slots, so be sure to check websites for the latest info (or opt for a RomAbout tour so we can take care of the admin for you!)
After a couple of difficult years, the tourism industry in Italy looks set to bounce back this summer, with some hotels, car hire companies, and beach clubs already reporting full bookings for peak times in July and August. Many bars and restaurants have also been able to extend their outdoor seating areas.
The rules, regulations, and guidelines around Covid-19 can change at any time, as the Italian government continues to review risk indicators such as infection and hospitalisation rates. Keep up to date on the latest information by following the links below.
Useful Information
Italian Health Ministry Website (in English)
EU Digital Green Pass Certificate
17 May 2021 – updates
Italy reopens for tourists this summer.
Travellers arriving from European and Schengen zone countries, Israel, UK and US, on testing negative, are not required to quarantine in Italy.
Tourists are obliged to take a coronavirus test before departure and on arrival, regardless of their vaccination status.
From the 17th of May most of Italy (except Val d'Aosta) are classified as the lower-risk 'yellow' zone, this includes: Rome, Milan, Florence, Naples and Venice.
Colours can change on a regular basis, depending on the covid-19 infections situation.
There is still a nightly curfew from 10 PM until 5 AM, across Italy.
Mask is required indoor public spaces, including on public transport and in public hotel areas. At the moment also outdoors.
Restaurants and cafes are open to customers, for the time being, only if outside seating is available.
Museums are open, but visitors are obliged to book their tickets in advance.
26 April 2021 – updates
Italy is starting to open up for summer season.
The classification of the Regions and Autonomous Provinces in the different areas based on risk levels, from April 26, 2021, will be as follows:
Red area: Sardinia
Orange area: Basilicata, Calabria, Puglia, Sicily and Valle d'Aosta
Yellow area: Abruzzo, Campania, Emilia-Romagna, Friuli-Venezia Giulia, Lazio (Rome), Liguria, Lombardy (Milan), Marche, Molise, Piedmont, Autonomous Province of Bolzano, Autonomous Province of Trento, Tuscany, Umbria and Veneto (Venice)
White area: (no regions)
In Yellow zones Italy's museums are open according to the covid-19 safety protocols, also at weekends.

6 April 2021 – updates
Till the 30th of April Italy will be divided into RED and ORANGE zones.
In the orange zone:
Abruzzo, Basilicata, Lazio (Rome), Liguria, Marche, Molise, Sicily, Sardinia, Umbria, Veneto and the autonomous provinces of Bolzano and Trento.
In the red zone:
Lombardia (Milan), Tuscany, Emilia Romagna, Calabria, Friuli Venezia Giulia, Piemonte, Puglia, Valle d'Aosta and Campania (Naples).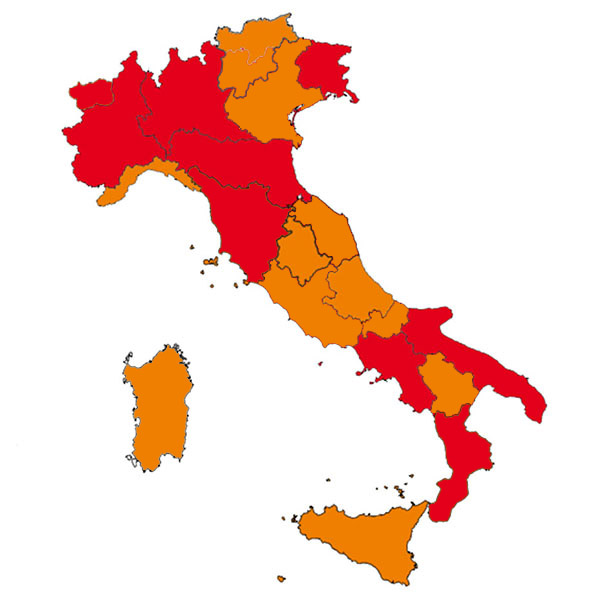 15 March 2021 – updates
Half of Italy is on lockdown.
From 15th of March until 5th of April these regions will be in "red zone":
Campania, Emilia Romagna, Friuli Venezia Giulia, Lazio (Rome), Lombardia (Milan), Marche, Molise, Piemonte, Puglia, Veneto and the autonomous province of Trento.
Under the red zone restrictions non-essential shops, hairdressers, restaurants and museums, as well as all schools, are closed. Restaurants and bars can provide takeaway service. People are forbidden from leaving their homes unless for urgent or necessary reasons such as work or health.
Food shops and pharmacies will stay open as normal.
The rest of Italy's regions will be in orange zones, with the exception of Sardinia which remains in the lowest-risk white zone.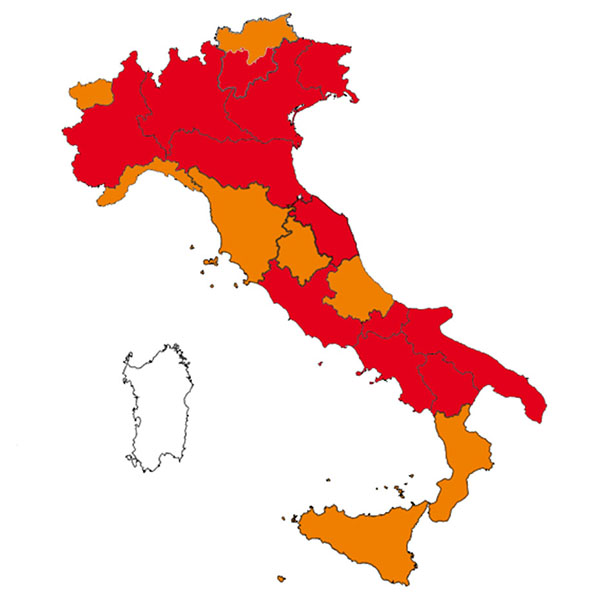 From the 3rd of April to the 5th of April all Italy will be under the highest level covid-19 restrictions – national lockdown.
30 January 2021 – updates
From the 1st of February most of the regions in Italy will become "Yellow" zones.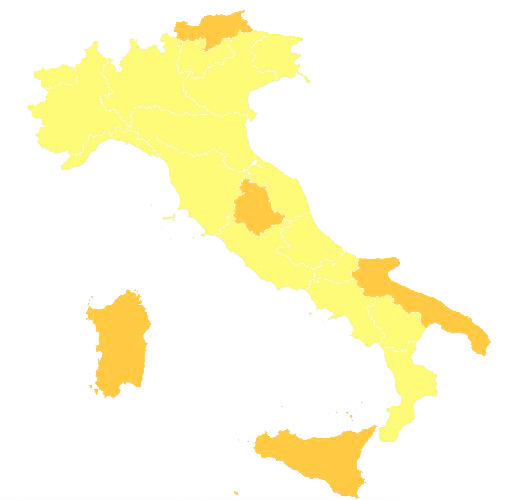 Regions in orange zones – Puglia, Sardegna, Sicilia, Umbria and the autonomous province of Bolzano
Regions in yellow zones – rest of Italy, included Rome, Milan, Florence and Naples.
There will be no regions in red zone.
In "Yellow" zones also museums and archaeological sites will be again open from Monday to Friday.
18 January 2021 – updates
From 17th of January the zones are divided following:
Regions in red zones -Bolzano, Lombardia (Milano), Sicily.
Regions in orange zones – Abruzzo, Calabria, Emilia-Romagna, Friuli Venezia Giulia, Lazio (Rome), Liguria, Marche, Piemonte, Puglia, Umbria, Valle D'Aosta, Veneto (Venezia).
Regions in yellow zones – Campania, Basilicata, Molise, Sardinia, Trento, Tuscany.
15 January 2021 – updates
Italy will extend Covid-19 state of emergency until 30 April 2021.
The Italian government is considering reopening museums from Monday 18 January, but only in regions classified as "yellow zones", and only on weekdays.
The measures relating to museums have yet to be confirmed.
11 December 2020 – updates
Christmas Holidays in Italy 2020
The new emergency degree extended all the restrictions till 15th of January 2021. On top that, Italy has banned non-essential travel between regions from 21 December 2020 until 6 January 2021. Traveling is allowed for work and health reasons only. It is also forbidden to transfer to holiday homes. Those who travel abroad over Christmas for tourism must self-isolate on their return to Italy for 14 days.
It is strongly recommended not to have guest over during the holidays.
On New Year's Eve-Day the curfew will be extended by two hours, in effect from 10 PM on 31 December until 7 AM on 1 January 2021.
4 November 2020 – updates
Following the new emergency decree, from Thursday 5 November 2020 until Thursday 3 December 2020 (included), all museums will be closed to the public. In addition there will be a nationwide curfew at night, between 10 PM and 5 AM, in place until 3 December.
Under the new decree, Italy has been divided into three areas to combat the second wave of covid-19:
red(high-risk), orange (medium risk) and yellow(low risk).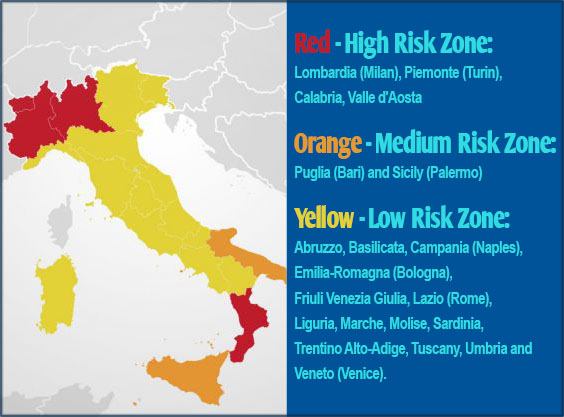 In the red zone, it's not allowed to enter or leave or move to other towns or cities within the zones. People may leave their homes only for reasons of necessity, such as work, health, or taking children to school. Restaurants, bars, pubs and most shops will be ordered to close. Grocery stores, pharmacies and hairdressers will stay open.
In the orange zone, it is forbidden to enter or leave the region. People can move within their towns and cities, but cannot travel to other towns/cities in the same region. Restaurants, bars and pubs will be closed, but the shops will remain open.
In the yellow zone, it's possible to move around within the region and from one yellow region to another. Restaurants, cafes, pubs, bars, pastry and ice cream shops are open until 6 PM. During the week shops stay open as normal, but during the weekend shopping centers will be closed.
25 October 2020 – updates
Since the coronavirus cases are rising in Italy, harsher restrictions have been announced.
Restaurants, cafés, bars, pubs, ice cream shops and pastry shops must close at 6 PM. It's not allowed to host more than four people per table. Restaurants are allowed to sell takeaway food until midnight.
It is also forbidden to consume food and drinks in public areas after 6 PM.
Parties, ceremonies, fairs and other gatherings are banned.
Gyms, swimming pools, spas, wellness centers, casinos, bingo halls, cinemas, theaters and concert halls will remain closed.
At the moment museums will remain open under strict visiting rules.
Overnight curfews have been ordered by local governors in different regions. In Rome between midnight and 5 AM, it is only allowed to move around for work, health, or other similar reasons.
These restrictions will remain in place till the 24th of November.
Due the new rules, there have been protests and riots in several cities in Italy
18 October 2020 – updates
Italian premier Giuseppe Conte announced further restrictions to slow down the spread of covid-19.
For time being the face masks are still compulsory indoors and outdoors at all times of the day, everywhere in Italy.
New restrictions were give to restaurants and bars, from 6PM the consumption of food and drinks will be allowed at tables only, and with a maximum of six people for a table. Bars and restaurants have to close the latest at midnight.
8 October 2020 – updates
The state of emergency has been extended once again in Italy till January 2021.
Till the 15th of October face masks are compulsory indoors and outdoors at all times of the day, everywhere in Italy. Those who refuse to wear a mask may be fined up to 1000€.
Testing for Coronavirus is now required for all travelers from UK, Netherlands, Czech Republic, Belgium, France and Spain, to Italy.
Greece, Croatia and Malta have been removed from the list, and testing is not required.
Italy's major airports offer rapid testing on arrival, the same applies to international ports and train stations. The tests are free as it is classed as an emergency procedure.
Self-isolation for 14 days must be carried out entering to Italy from: Romania, Bulgaria, Australia, Canada, Georgia, Japan, Morocco, New Zealand, Rwanda, South Korea, Thailand, Tunisia, and Uruguay.
5 October 2020 – updates
The Lazio region (including Rome) introduced an order obliging people to wear face masks in public at all times, including outdoors.
The order to wear masks outdoors applies also in Calabria, Campania and Sicily. It is expected to be rolled out nationwide as part of Italy's latest emergency decree on 7 October.

7 September 2020 – updates

Italy's latest decree extends most of the current rules aimed to prevent the spread of Coronavirus, the new decree will be valid until October 7th.
Masks remain compulsory, everyone must wear them in enclosed public spaces such as shops, restaurants or public transport. They must also be worn in outdoor areas between 6pm-6am.
The decree also keeps in place a ban on entry from countries on Italy's no-travel list. There are 16 countries currently included: Armenia, Bahrain, Bangladesh, Brazil, Bosnia Herzegovina, Chile, Kuwait, North Macedonia, Moldova, Oman, Panama, Peru, Dominican Republic, Serbia, Montenegro and Kosovo.
Those returning to Italy from Spain, Malta, Greece and Croatia will face mandatory testing on arrival and the quarantine obligation for those arriving from Romania and Bulgaria.
Travel from elsewhere, including from the US, remains possible for essential reasons only and arrivals will still face a 14-day quarantine.

15 July 2020 – updates

Italy has renewed its restrictions to counter the Covid-19 crisis until 31 July.
Remains obligation to wear masks in enclosed public spaces and the continued prohibition of public gatherings of people.
14-day quarantine remains in place for all arrivals from extra-European countries and suspension of flights to and from 13 additional countries: Armenia, Bahrein, Bangladesh, Brasil, Bosnia-Herzegovina, Chile, Kuwait, North Macedonia, Moldova, Oman, Panama, Peru, and the Dominican Republic.
Italy will constantly update coronavirus travel ban with high risk countries.
6 June 2020 – updates

The Italian government has now lifted most of the country's strict lockdown rules, including many travel restrictions.

The main rule to follow is social distancing, in addition it's mandatory to wear masks in closed spaces, such as shops, museums and while using transportation in any situation where it's not possible to guarantee the interpersonal safety distance. The gathering of crowds remains prohibited.

Most of Italy's top museums and archaeological sites have reopened, like the Colosseum and the Vatican Museums, under strict conditions including advance booking, wearing masks and maintaining social distancing.

In the archaeological sites and museums for security reasons all visitors shall be screened. Infrared devices will measure the personal temperature and people with a body temperature above 37.5 ° will not be allowed to continue their visit.

At the moment many of the hotels and restaurants have remained closed and are expected to reopen later on.


16 May 2020 – updates
As part of the plans to ease travel restrictions, the Italian Government announced, starting on June 3, travelers from European Countries* and Schengen Area, will be allowed to travel to and from Italy without a mandatory 14-day quarantine.
*The UK has left the European Union. The rules on travel in the EU will stay the same until 31 December 2020 while the UK and EU negotiate additional arrangements. Gov.UK

The move, also allow people to move freely inside the country from the same day.
Large public gatherings will still be banned, on public transportation and in public spaces wearing face masks is mandatory. Social distancing measures are maintained
Restaurants can reopen as long as customers are kept at one meter distance from each other, with mandatory face masks for both staff and customers (when not sitting at tables).

Eventual new travel restrictions will be put in place only in certain areas, depending on outbreaks of the coronavirus, Italy's Council of Ministers said
11 May 2020 – updates
From May 4th, the official list of regulations has been somewhat relaxed. However, the use of masks in enclosed spaces accessible to the public is now mandatory (including on public transport and in shops).
Take out will be allowed from restaurants, cafes, and similar businesses, in addition to the delivery services which have been allowed thus far. Though dining-in is still not allowed.

Museums will resume normal schedules from May 18th.
Non-essential travel to Italy is highly recommended to be suspended. a 14-day quarantine is mandatory for all travelers who enter Italy.
Public transport including airlines, trains, and buses continue to operate but with reduced frequency.

Walks are only allowed when strictly necessary to carry out a journey justified by one of the motives just mentioned.
The use of one's bike is allowed to reach work, home, or any stores which remain open. It is also allowed to carry out outdoor physical activity. In any case, the minimum interpersonal distance must be respected (at least 1 meter apart).

Rules are planned to be further relaxed on the 18th of May.
25 April 2020 – updates
The lockdown is extended until 04 May 2020.
02 april 2020 – updates
As a result of the Prime Ministerial Decree of 1st April 2020 the lockdown is extended until 13 April 2020.
21 march 2020 – updates
Italy's coronavirus lockdown will be extended beyond the current term of April 3. An official date hasn't been provided yet.
09 march 2020 – updates
Colosseum and Vatican, including the Sistine Chapel, will remain closed until April 3 at least.
As a result of the Prime Ministerial Decree of 8 March 2020, valid until 3 April 2020, the opening of the museums and other cultural institutes and places referred to in Article 101 of the Code of Cultural Heritage and Landscape, referred to in Legislative Decree No 42 of 22 January 2004, is suspended.
02 march 2020

The Coronavirus & tourism in Italy:
Staying safe and aware while making the most of your Roman and Italian adventure
Traveling to Rome is a magical experience at all times of the year. But with the recent circulation of news concerning the coronavirus, many of us find ourselves questioning our next trip to the Eternal City. While the coronavirus has affected some parts of Italy, it is important to consider the facts related to the illness and how it has impacted Rome and the security of travel to this area.
What is the coronavirus?
The COVID-19, also known as the coronavirus, is a respiratory disease which comes from a large family of viruses that can cause illnesses ranging from mild common colds to more severe respiratory syndromes. First detected in Wuhan City, China, COVID-19 is thought to have been initiated by human contact with infected livestock. Eventually, the virus continued to spread through human to human contact, infecting thousands of people in China and abroad.
The coronavirus in Italy.
On January 30th, authorities confirmed the first case of the coronavirus in Italy. Currently, the number of those infected sits just above 2,200, in a population of nearly 60 million people. With that said, the majority of cases are confined to two clusters of small cities in northern Italy, located nearly 500 kilometers to the north of Rome. However, the region of Lazio (where Rome is located) has confirmed 22 cases of the virus thus far, all of whom are in quarantine.
Currently, the government has issued a "Do Not Travel Notice" to the regions of Lombardy and Veneto and has restricted and/or suspended direct flights from Chinese points-of-origin. Authorities are also providing basic wellness checks to all people flying into Italy's major airports to stop the entrance of infected individuals. However, there have been no travel restrictions placed on Rome or its surrounding areas. It is also important to note that Rome has not experienced a major closure of public spaces or touristic sites, nor a shortage of food during this period. Although, as a precaution, schools and universities throughout Italy have been closed until mid-March and one Roman historical site, the Catacombs, are closed due to their humid nature and potential to foster disease.
Don't travel if you are already feeling sick.
Wash your hands often using sanitizing soap.
Maintain distance from anyone exhibiting symptoms of the virus including a cough or fever.
Cover your mouth and nose when sneezing or coughing in public.
Avoid touching your eyes, nose, and mouth as much as possible.
Safety while you're in Rome.
This virus may be leaving you with a sense of hesitation to visit Rome, but you know what they say, "When in Rome, do as the Romans do!" In this case, that means continuing on with life, plans and travel as usual, while maintaining healthy behaviors to prevent the spreading of disease.
Rome awaits.
What we want to say is… don't panic! You can still create life-long memories and take in all the great ancient history Rome has to offer through Rome tours with your family and friends. Participate in Vatican tours and bask in the great marvels of the Sistine Chapel, St. Peter's Basilica, and more. Or decide to see Rome's most iconic landmarks through Colosseum tours, where you can travel back nearly 2,000 years to a period of arena fighting, gladiators, and emperors. Whichever way you choose to enjoy the glory this unforgettable destination, consider the following suggestions to make your trip more pleasant and safe.
Take private and small-group tours during off-peak hours (early morning or late afternoon)—in doing so, you can avoid the large crowds that tend to form near major tourist sites!
Purchase skip-the-line entry passes—with these in hand, you can visit sites more quickly and avoid the lengthy lines at entrances, rendering your visit less tiresome and more enjoyable!
Stay informed by continuously checking for alerts with your government, airline, and embassy regarding the virus. Ultimately, the decision to travel is yours… but by taking the proper steps to prepare for your trip to Rome, you can help to keep yourself healthy and enjoy a beautiful journey to one of the oldest cities in history.